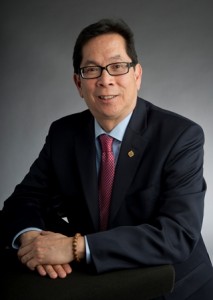 From the Superintendent/President
Dr. Frank Chong
Greetings to all Faculty and Staff!
The past year was a truly challenging time for our college and our students. The entire Sonoma County community, and the rest of the world, had to adapt to new ways of learning, teaching, working and socializing in the face of the coronavirus pandemic. Yet, as we embark upon a new year, I find myself reflecting on the way our dedicated faculty, staff and administrators came together in 2020 to help students continue to succeed on their educational journeys. You all are what make this institution an incredible place to learn and work and together you have achieved amazing things. That's why I hope that this PDA Day, Thursday, February 11, 2021, we can show our appreciation for you as you enjoy the wonderful online sessions organized by our Professional Development Committee.
While SRJC has a long-standing history of highlighting the Tauzer Lecture at spring PDA, in light of the current environment, the Tauzer Committee has decided to delay the next Tauzer Lecture to spring 2022 with the hope that we will be back in person by then. As an alternative, the Tauzer Committee has selected Dr. Juana Maria Rodriguez, Professor and Chair, U.C. Berkeley Ethnic Studies Department, to provide a lecture during the opening session of spring PDA. In order to continue our ongoing college wide conversations around social justice, Dr. Rodriguez will present on "Public Women: Sex, Power, and Portraiture in the Mexican Archives" which will include an in-depth discussion on gender and racial discrimination in Mexico.
I hope you'll join me, albeit remote, for a day of enriching lessons, crucial conversations and collegial camaraderie on February 11. While we can't come together for coffee just yet, I hope that this PDA Day can be a day of self-care and learning for us all.
I look forward to seeing you on PDA day.
In solidarity,
Frank Chong