Greetings to all Faculty and Staff!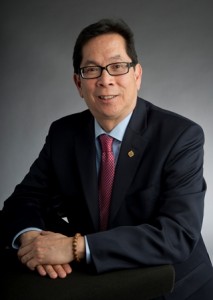 From the Superintendent/President
Dr. Frank Chong
As our entire community continues to respond to the ever-changing state of the pandemic, including the new Omicron variant, I can't help but be proud of the achievements of our faculty, classified professionals and administrators who dedicated themselves to helping our students pursue their educational goals throughout this time. We have accomplished much in the face of great challenges because of the incredible people who work at this college.
This semester we have returned many classes to an in-person format and we've continued vital support services, while also providing COVID-19 vaccinations, boosters and testing to keep our campuses safe. We have never seen anything like this in the over 100-year history of this college, but in the face of these challenges, our community stood up, came together and made amazing things happen—all in the name of education. I am truly humbled to work amongst such tireless dedication.
I hope that this PDA Day on Thursday, February 17, we can show our appreciation with an entire day of professional development and interesting lectures from experts who reside amongst our own colleagues.  I'd also like to thank the Professional Development Committee for coordinating these important sessions.
I am delighted to share with you that we are bringing back the Tauzer Lecture tradition this year! The Tauzer Lectures have served as the foundation for enriching our learning experience at PDA Day and I am so honored that we will be able to offer the opportunity to share this experience with our college community again. Anthropology Instructor Nicole Slovak will be featured as this spring's Brook Tauzer Lecturer with her presentation, "From Bones to Biographies: Bioarchaelogical Approaches to the Study of the Andean Past." In this lecture, she will discuss bioarchaeological approaches to the study of the human past using case studies from ancient Peru. From bone chemistry to the burial environment, this presentation explores how bioarcheologists reconstruct individual life histories from the human skeleton and associated mortuary context.
Please join me for a day of enriching lessons, crucial conversations and collegial camaraderie on February 17. I hope that this PDA Day can be a day of self-care and learning for us all.
In appreciation,
Frank Chong